Renting in Long Beach continues to dig deeper into tenants' pockets with a rent increase of 0.3% from September 1 to October 1, according to apartmentlist.com.
The website states median rent for a one-bedroom apartment in Long Beach is currently $1,400, while median rent for a two-bedroom is $2,000. According to the site, this is a 5.1% increase from October 2015.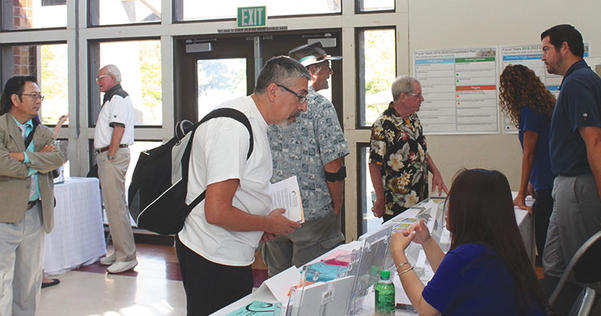 Long Beach residents receive information at resource tables set up at the September 24 Housing Resource Fair and Community Forum at the Jenny Oropeza Community Center. The event is part of a three-event series hosted by Mayor Robert Garcia and the Affordable and Workforce Housing Study Group to gather community input on affordable housing in the city. The final event is a roundtable with housing developers scheduled for October 14 from 1-2:30 p.m. at the Michelle Obama Library located at 5870 Atlantic Ave. (Photograph courtesy of the City of Long Beach)
With concerns about increasing rents, displacement, habitability issues and pushback on city programs by advocacy groups in Long Beach, city officials have began taking steps to address livable and affordable housing. Recently, Mayor Robert Garcia created the Affordable and Workforce Housing Study Group to aid the city in these discussions.
"I think the important thing is to listen to the community," Garcia said in an interview with the Business Journal. "We're going to have these roundtables, then we're going to have a discussion with the council."
The study group – which includes representatives from housing advocacy groups, the affordable housing development community and city staff – and the mayor are hosting three community meetings to "collect input from residents, developers and interested parties on affordable housing in Long Beach."
The first meeting was a roundtable with housing advocates on September 19, and the second was the Housing Resource Fair and Community Forum on September 24. The final meeting is a roundtable with housing developers scheduled for this Friday, October 14, from 1-2:30 p.m. at the new Michelle Obama Neighborhood Library located at 5870 Atlantic Ave.
"There have been a lot of good discussions, and we want to make sure that we have a strong policy that is going to continue to ensure that people have quality homes but also a vibrant city," Garcia said. "There's no specific timeline right now. We're just gathering information and just giving the community an opportunity to speak their minds."
Eventually, the study group and city staff will make recommendations to the city council on how the city can continue to improve affordable housing, according to the mayor. He said ultimately the decision will be made by the city council as to what measures will be taken, if any.
"This goes from a veteran trying to find housing that he or she can afford all the way to teachers graduating out of Cal State Long Beach that can't afford to buy their first home," Garcia said. "We just want to make sure that we have quality, affordable housing for seniors, for veterans, for students, for artists, for people that need housing."
The mayor pointed out that the city is required to build affordable housing and has built substantial amounts in the last few years. He said much of this has been in the form of senior and veteran housing, as they are oftentimes on a fixed income. The mayor also acknowledged the work city staff has committed to the affordable housing issue over the years and continues to do today.
To aid city staff by providing regional and national knowledge of affordable housing practices, Long Beach Development Services Director Amy Bodek hired consultant Mercedes Marquez of Marquez Community Strategy, a Los Angeles-based consulting firm, who will be paid $40,000 for her services. This appointment did not require a vetting process or approval by the city council due to the low payment amount, according to Bodek.
Marquez served as the general manager of the City of Los Angeles Housing Department (LAHD) from January 2004 to June 2009. She left the position when she was nominated by President Barack Obama to serve as assistant secretary for the United States Department of Housing and Urban Development (HUD), Community Planning and Development, a position she held until 2012.
This appointment was not the first time Marquez worked with HUD. During the Clinton administration, Marquez served as the senior counsel to Secretary Andrew Cuomo and the deputy general counsel for civil rights and fair housing for HUD.
Upon learning of Marquez's appointment, the Long Beach landlord and tenant advocacy group Better Housing for Long Beach (BHFLB) voiced concerns regarding her past record, claims of money mismanagement while at her position in L.A. and other questionable practices. The group also questioned Marquez's effectiveness when it comes to affordable housing.
"We do look forward to working with her," Elaine Hutchison of BHFLB said. "And our main hope is that she does understand and respect the importance of rental property owners as a vital part of the Long Beach economic community and that she does seek out the input from rental property owners as she looks at affordable housing in Long Beach."
According to Americans for Limited Government, a nonprofit organization that pushes for a reduction in governmental controls over citizens, in L.A., "On average, from 2003 to 2006, there were only 330 affordable units built each year. There were over 7,000 affordable units lost between 2003 and 2006, and there were over 13,000 rent controlled apartments and houses lost from 2001 to 2007."
The site also states that Marquez spent three years and $2 million studying hundreds of L.A.-owned buildings that could be used for affordable rental housing but only selected two sites. One of the more bizarre stories states that Marquez used taxpayer money, upwards of $19,000, to train her employees in Zen Buddhism techniques.
"We didn't put much stock into that. And since she's really not running a program for us, that sort of information is irrelevant," Bodek said when asked about these concerns. "What was more important to us was her ability to understand state and, particularly, national policies. She brings with her national knowledge that we can't find in our own backyard in Long Beach."
Tenant advocacy group Housing Long Beach agrees with Bodek's decision to bring Marquez into these housing discussions. Josh Butler, the group's executive director, said, "Ms. Marquez's broad range of experience will be a tremendous asset to Long Beach as we grapple with this affordable housing crisis."
Regardless of opinions on who should or should not be involved in the affordable housing discussions, Garcia and Bodek agree that the endgame of these community meetings, as well as the recommendations to and discussion by the city council, is to come up with legitimate and implementable solutions.
"I think it's been an interesting process in terms of hearing the perspectives of all of the interested parties," Bodek said. "What's refreshing to me about this is that, although there are clearly divergent views, everybody is talking about this issue, which is critically important. If we can find programs that will allow us to expand our opportunities to more people, I think that's a good thing."