As the economy continues its steady upswing, commercial and industrial real estate markets remained relatively flat through the 3rd quarter, according to industry experts. Vacancy rates held or increased slightly, while rental rates increased slightly in some areas. Some experts said the continued development citywide in residential and commercial space is reason to believe the markets are positioned for a bright future.
Office
According to David Smith, senior vice president of CBRE, Inc., both the downtown and suburban office markets were flat in the 3rd quarter. Downtown Long Beach had a vacancy rate of 10.7% for Class A space and 19.1% for Class B space for an overall vacancy of 14.7%. The suburban market fared better, with Class A vacancy at 6.4% and Class B at 12.1% for an overall 9.7% vacancy in the area.
"Everyone thinks that the future of Long Beach is pretty bright from an office space standpoint," Smith said. "Though, particularly downtown, leasing has been a little slower than most people would have hoped based on a lot of the work that has been done to a number of the buildings."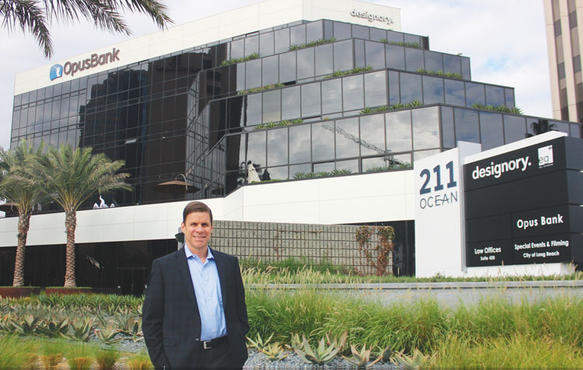 The office building at 211 E. Ocean Blvd. is undergoing continued renovations to transform several floors into creative office space with roll-up doors leading to balconies on every floor, operable windows and common spaces, according to Dave Smith, senior vice president of CBRE Group. (Photograph by the Business Journal's Brandon Richardson)
Currently, Downtown Long Beach is experiencing a high volume of residential and retail development, which Smith said is important to the office market. He explained that office, retail and residential markets rely on one another – retailers need customers, offices need employees and residents need jobs and goods and services. Therefore, additional residents could be a positive for the office market in the long term.
Despite slow new-tenant activity, Smith said there are some new leases that could be signed during the 4th quarter, including several State of California deals in both the suburban and downtown markets. At 211 E. Ocean Blvd., creative office tenant Pacific Six recently leased 9,000 square feet of office space, which is currently being built out.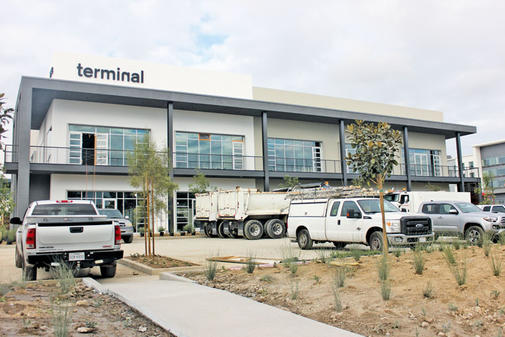 Phase one of The Terminal at Douglas Park is nearing completion, while crews lay the foundations for phase two. The project consists of four 25,000-square-foot for-sale office condominiums by Long Beach-based Urbana Development. (Photograph by the Business Journal's Brandon Richardson)
"One of the big questions for downtown is Molina Healthcare and what the impact of their current situation is in terms of their layoffs and staff reductions and how that's going to impact the office market," Smith said. "The truth is no one knows the impact that's going to have yet."
Smith explained that, in the short term, Molina would be vacating space at the World Trade Center, causing vacancy to increase drastically. However, he noted that Molina's lease in the building was short and never intended for long-term occupation.
Absorption in the downtown market was up from the previous quarter with 47,772 square feet in all classes, according to a 3rd quarter report by Cushman & Wakefield. The suburban market was also up, with a total absorption of 14,846 square feet. The downtown market also saw a 1.7% increase in asking rental rates to an average of $2.39 per square foot, while the suburban market rates remained flat with an average of $2.24 per square foot.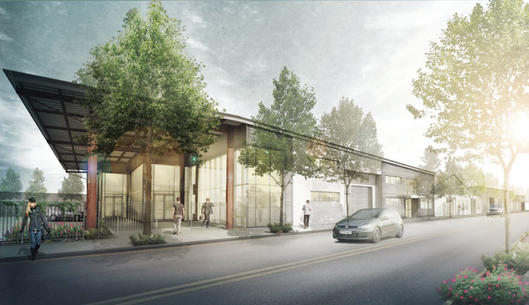 Lee & Associates Commercial Real Estate Services is currently in talks with some brewery groups, a swim clothing brand and an office group for space in one of its new industrial office condominiums currently under construction on the southwest corner of Orizaba Avenue and 14th Street. (Rendering courtesy of Lee & Associates)
"The market is improving at a steady pace, which is reflective of the overall economy. The office market is fueled by jobs. So, when jobs are created, it creates a demand for office space," Robert Garey, senior director at Cushman & Wakefield, said. "The stock market is at an all-time high, unemployment at an all-time low. We're feeling a little bit more bullish about things going forward. It's kind of a steady market at present and I anticipate it will continue on this path."
The most notable sale was of 4900-4910 Airport Plaza Dr. to Starwood Capital Group, according to Garey. The building is about 150,000 square feet. He added that nothing significant occurred as far as leases in office space.
Following the announcement of the Trump administration's tax plan, Garey said it remains to be seen if it would have any impact on the office real estate market. He said that, if it is true tax reform, he hopes companies will reinvest in themselves and employees, which would call for additional office space. However, he noted the plan could end up just being a "remixing of the same ingredients" and have little to no impact.
Industrial
Brandon Carrillo, a principal at Lee & Associates Commercial Real Estate Services, said the industrial real estate market has been performing incredibly, with consistency for the past eight or so quarters.
"We continue to see lease rates increase, especially from first quarter of this year to third quarter – lease rates have increased by 10%. We continue to see sale prices increase as well," Carrillo said. "The volume of sales transactions has jumped up immensely considering how we started in the first quarter, which was around $6 million worth of transactions, to this quarter with $316 million worth of transactions."
According to a Lee & Associates 3rd quarter report, absorption was down from the previous quarter, with 73,064 square feet, and vacancy remained flat at 0.8%. However, with average rents at 91 cents per square foot and sales prices at $171.90 per square foot, Carrillo said the market is strong with no signs of letting up. He added that 1 million square feet of new industrial space is currently under construction in the Los Angeles and Long Beach areas.
One factor maintaining the strength of the industrial market in Long Beach is the diversity of industries in the area, Carrillo explained. He said that, by not relying too heavily on one industry, the market does not take big hits when one sector experiences a shakeup.
"There was a statistic that came out from the federal government that, just between L.A. and Orange counties, we did over $1 trillion worth of gross domestic product. That just puts us on par with New York and Texas and Florida. We're right behind them," Carrillo said. "And we're competing with countries. We're on par with Mexico and Indonesia. So there's a lot of business being done in our area."
The introduction of marijuana operations into the Long Beach industrial market continues to put pressure on rental and sales prices for properties within the city's overlay zones, according to Carrillo. He said the market is seeing up to double or triple the value for these properties from where prices were before the overlay areas were created.
Looking to the future of the market, Carrillo said he expects more of the same. He said the 4th quarter should be strong, and he expects continued growth persisting into 2018, especially considering the gridlock at the federal government level, which means no major impacts coming to the market.
In addition to record low vacancy rates, Lance Ryan, senior vice president of marketing and leasing for Watson Land Company, said a lack of developable land in the Long Beach and South Bay areas is also a factor when considering rental and sales rate increases.
"So, very tight, very limited in terms of new development as a result of being largely infill property," Ryan said. "What we've seen as a result of that too is that, when there's developable land available, it also has exceeded the past highs. So we are in record territory for land prices as well."
Recently, the Carson City Council and planning commission approved a 400,000-square-foot industrial development despite the city's current development moratorium, according to Ryan. However, he said the problem remains land availability, especially in Carson where much of the land is landfill or has had past petroleum uses.
Another factor keeping available land void of industrial space is the strong demand for paved yard space for truck, trailer and other storage. He said landowners are making enough from those uses that developing the property does not make fiscal sense.
When discussing the prospect of Long Beach and the South Bay losing out on industrial tenants to the Inland Empire, Ryan said it is unlikely simply because of the type of space users want and need.
"What we've seen so far is kind of a co-location. Many of our existing customers here in the South Bay have locations out in the Inland Empire," Ryan said. "When you're looking at a facility that's close [to the ports], most of the buildings are not going to be racked buildings – there's a much higher velocity of throughput. Product is floor stacked and it comes in and out very quickly. The reason a company would want to be located here is they can get more truck turns to the port each day."
While rents in the Inland Empire might be lower, Ryan explained that transportation costs become much higher. He said typically the area houses major distribution centers that have a higher volume but slower throughput velocity, meaning product sits longer.
For Watson Land Company, Ryan said that no notable transactions and deals were made in the 3rd quarter because the company's 20 million square feet of space in Southern California (11 million square feet in the South Bay alone) is 99% leased, with most tenants opting to renew. He did note the recent sale of the 110-acre former Toyota campus in Torrance to Irvine-based real estate development, investment and management firm Sares-Regis Group.
Retail
Outside of major development projects moving forward such as Long Beach Exchange at Douglas Park and 2nd & PCH in Southeast Long Beach, Joe Linkogle, vice president of investments at Marcus & Millichap and director of its National Retail Group, said very little has changed in the retail real estate market since the second quarter.
"The market is still good. The only amazing thing that I'm surprised by is there are not more sellers right now because the market is still red hot," Linkogle said. "I think a lot of that has to do with the fact that property owners are simply doing well. People start thinking about selling when their property is not doing well but the reality is that the time to sell your property is when it's doing well. You're not going to sell your car when it's not running, right?"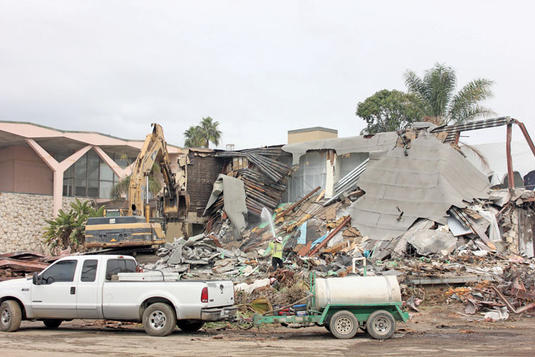 The demolition of the SeaPort Marina Hotel is underway to clear the site for CenterCal Properties' retail development, 2nd & PCH. (Photograph by the Business Journal's Brandon Richardson)
In certain areas of the city, such as Belmont Shore, Linkogle said he thinks rental rates have plateaued after steady increases. However, the impacts of the 2nd & PCH development just up the street are yet to be seen, Linkogle explained. One definite impact of the development is Marina Shores Shopping Center losing Whole Foods, which Linkogle said is going to be a tough location to find a tenant for, due to its size.
"There's still a big, active buyer pool for commercial real estate. As was the case in the third quarter, pricing is still a very fine line," Linkogle said. "If your property is priced correctly, you're going to see a ton of activity. If you're way overpriced, it's going to sit. So pricing is more critical today than it was a year ago. But things are good. The market is still solid."
Linda Treffry, associate at Coldwell Banker Commercial BLAIR WESTMAC, agreed, describing the retail market as flat. She said rates for retail space in the downtown core are about $2.50, while the suburban market is ranging anywhere from $2 to $2.25. Additionally, she said vacancy rates have increased across the board.
"It's a little higher in the downtown retail core, mainly because of all the changes happening in the downtown center, and the redevelopment, and new development that's underway," Treffry said. "So, we're positioned well for future growth in the sector, but right now it's been flat and lagging."

Burnham-Ward Properties' Long Beach Exchange continues to take shape on the southwest corner of Lakewood Boulevard and Carson Street. The 266,000-square-foot retail center is expected to be completed in spring of next year. (Photograph by the Business Journal's Brandon Richardson)
With more than 2,500 residential units under construction or planned in the city, Treffry said more retail concepts would be attracted to the city due to the increased number of consumers. Along with the city's persistent development and redevelopment projects, Treffry explained the changing landscape of retail in general is making it difficult for traditional brick-and-mortar stores to survive, mainly due to the Internet.
Because of trends in shopping, Treffry said experiential shopping environments with unique concepts are likely to thrive over traditional stores, as are professional services and boutique gyms – businesses that are resistant to the Internet. This trend is not specific to Long Beach or even California, Treffry explained, but rather to the nation as a whole.
"When they step into a shopping area, consumers want an experience. They don't want to just go in and purchase an item they have been looking for because they could do that easily online. They want to have an overall experience," Treffry said. "I look at the success of Belmont Shore and that's why it has very low vacancy rates with very high rents. It remains to be seen whether it can sustain those high rents. Definitely that mix of tenants is changing."