At a time when businesses have had to shutter to comply with social distancing requirements, federal loans have provided relief for many whose revenues have been depleted as a result. 
But with one of the Small Business Administration's most in-demand emergency loans, the Paycheck Protection Program, officially out of funds, small business owners are left to wonder what's next.
As the general manager of a hair salon, deemed non-essential by the city during the pandemic, Judy Irwin said her business is in need of assistance. "Right now, we're not making a dollar," she said. The salon has been closed for almost a month.
Irwin applied for two SBA loans on behalf of The Den Salon in Downtown Long Beach, the Economic Injury Disaster Loan and the Paycheck Protection Program. The application for the ladder, she noted, didn't become available on her bank's website until April 16, a day after the SBA announced the program was out of funds. 
Since submitting her loan applications, Irwin said she hasn't heard back, and she feels powerless. "Every time I open my email, I just hope for something from somebody, but that's all I can do," she said. "It's just complete uncertainty."
A sense of uncertainty has dominated business sentiment in Long Beach, said Downtown Long Beach Alliance Economic Development and Policy Manager Austin Metoyer. "There's some level of cautious optimism," he noted. "But the level of uncertainty that's been put on [small businesses] and how they can operate has created a lot of stress for them."
Whether businesses were able to apply for and succeed in securing an emergency loan depended, in part, on their existing relationship with a bank that was authorized to process applications for paycheck protection loans, said Metoyer.
"We've had a lot of folks who have applied for it and got denied because they didn't have a standing relationship with a bank," he explained. 
For those without a pre-existing relationship to a bank that could process their application, the past two weeks since the program was announced have been a scramble. It took many businesses a week to figure out the application process, said Metoyer. By then, the program had almost run out of money.
Overwhelmed by the amount of applications rolling in, many large banks didn't follow up with businesses if their applications contained errors or missing information, said Carl Dene, owner of Michael's Downtown. Dene said he applied for paycheck protection loans for several businesses he is involved with, only two of which were successful. 
"I wish Michael's Downtown had been with a smaller community bank that would have held our hand through this," Dene noted. "With the big banks, it was like Vegas. Either you're in or you're out."
Sumer Temple, owner of Don Temple storage, said her company has benefitted from its longstanding relationship with the company's local bank, Farmers & Merchants. "We've been very lucky," Temple noted. "They really came alongside us and guided us through this process."
Temple applied for a payroll protection loan on April 8 and received confirmation that her application had been approved a week later.
Retaining her employees has been one of Temple's biggest concerns. "The most important thing this loan will do is […] provide our business with a way to continue to pay our extraordinary employees, while still serving our community," Temple said.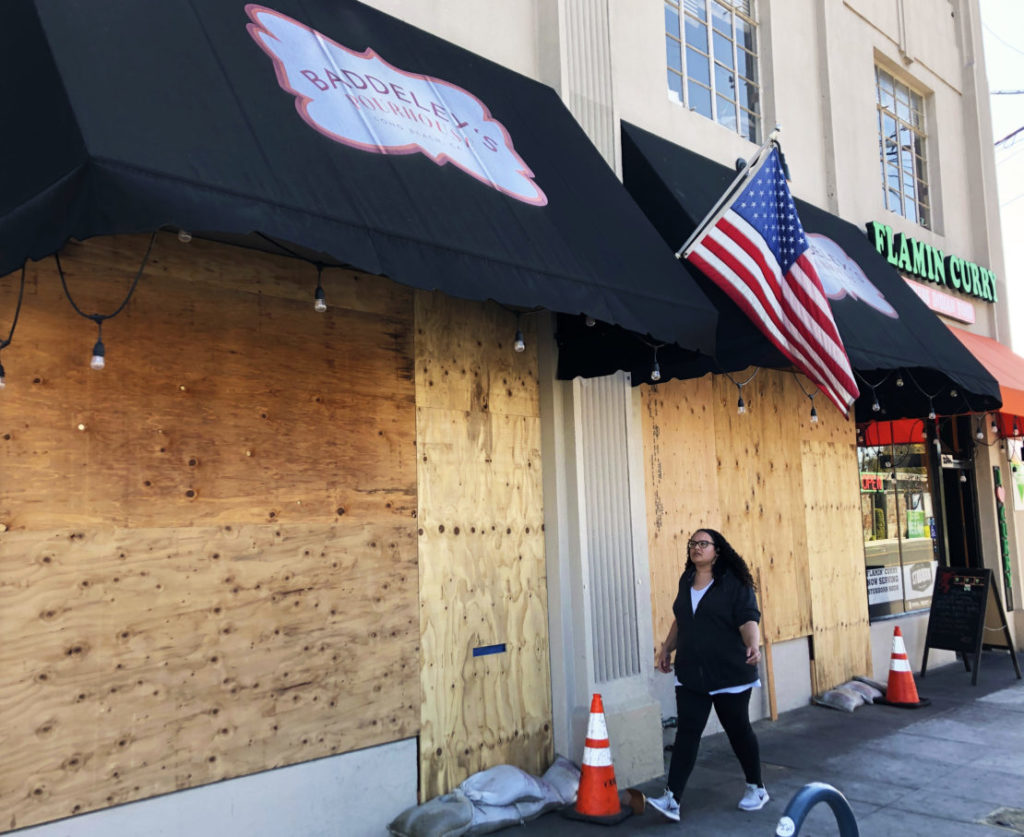 Different from the SBA's economic injury loans, which are offered regularly to assist businesses affected by wildfires, other natural disasters, and now the coronavirus pandemic, the paycheck protection loan program was designed and funded specifically in response to the pandemic. And demand has been high.
"The SBA has processed more than 14 years' worth of loans in less than 14 days. The Paycheck Protection Program is saving millions of jobs and helping America's small businesses make it through this challenging time," the SBA press office said in a statement released on Wednesday. 
"We urge Congress to appropriate additional funds for the Paycheck Protection Program—a critical and overwhelmingly bipartisan program—at which point we will once again be able to process loan applications, issue loan numbers, and protect millions more paychecks," the SBA stated.
The National Federation of Independent Business sent a letter to Congress, urging representatives to appropriate more funds to the in-demand program. 
"Unfortunately time is not on the side of the mom-and-pops in Long Beach and across the nation," said John Kabateck, the NFIB's state director for California. "Small business owners that have been given the glimmer of hope for immediate financial support need that help now."
The news that the program had run out of funds came as a disappointment to many businesses still waiting to hear back. Troy Carrick, president of Anderson Real Estate Group, said the real estate company had counted on the funds to maintain its employees. 
"We might have hung on to people maybe a little bit longer than we could afford to," Carrick said. On Monday, the company had to let two of its employees go.
"Had those programs never been pitched, we would have made cuts to our overhead and staffing much sooner," Carrick said. The loan program had offered some hope that they would be able to maintain their staff. "That hope is pretty much gone," he said.
Despite the disappointing news, Kabateck urged businesses to continue submitting applications, in case more funding is approved. "We're advising them: don't give up on applying," he said.