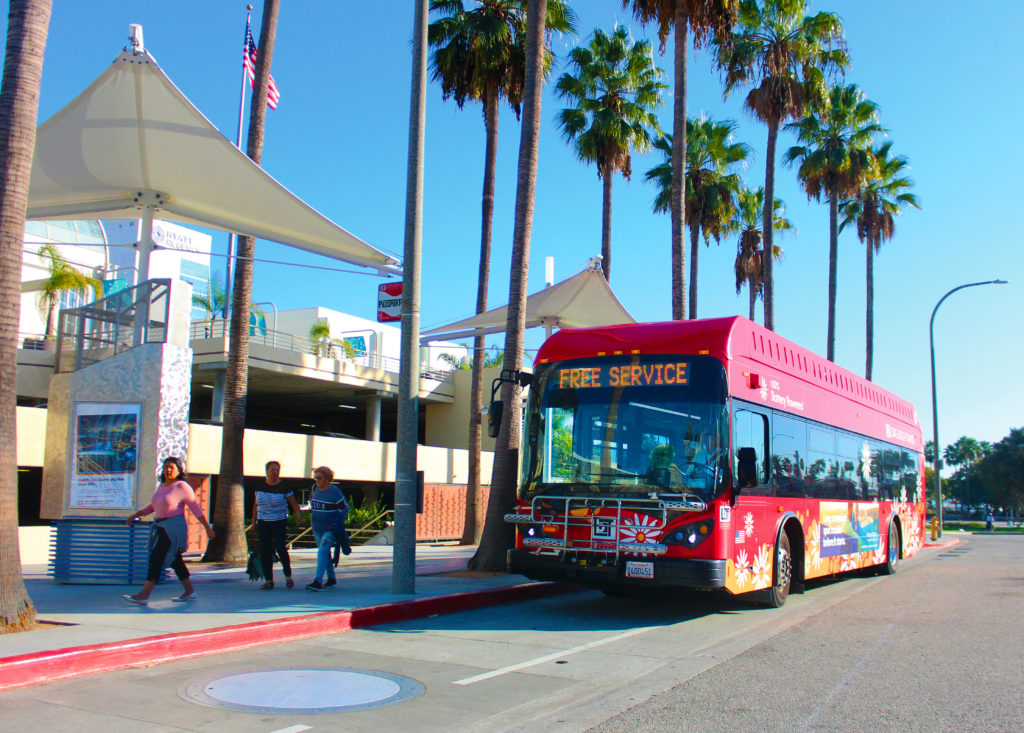 While many employees across the region continue to work remotely, public transportation remains crucial to those whose work cannot be performed from home. Food service workers, store clerks and health care professionals are among the essential workers who continue to ride buses and trains to their place of employment.
For local transit agencies, this presents a significant challenge: While overall ridership and revenue have dropped dramatically, the cost of providing their essential transportation services hasn't decreased.
"The COVID-19 stay-at-home orders were necessary to stop the spread, but they have had a devastating effect on our revenue sources," said David Sotero, communications manager with LA Metro. 
In addition to fare revenue, the agency relies heavily on funds generated by sales taxes, which have also dropped significantly as all bars, many retail shops and dine-service at restaurants remain closed.
In the meantime, costs have increased as a result of the pandemic. 
"While our revenues have plummeted, COVID-19 has increased our operating costs," Sotero said. "The agency is estimating an increased cost of over $200 million over the next fiscal year to protect our employees and our customers." 
In total, LA Metro currently expects a revenue loss of $1.6-$1.9 billion related to the coronavirus.
For Long Beach Transit, which provides a majority of the city's local transportation options and serves as a connector between Long Beach neighborhoods and Metro's A Line, the financial outlook is equally grim.
On March 22, the agency reduced its daily bus service to a 6 a.m. to 9 p.m. schedule and completely suspended its water taxi service. 
While fare revenues have tumbled, the agency's healthcare, workers compensation and insurance costs continue to increase.
The cost of providing healthcare for its employees and payouts on workers compensation claims had been steadily increasing for years, a trend that is likely to be exacerbated as a result of the pandemic. 
"I'm certain that we will see an increase in these expenses," LB Transit CEO Kenneth McDonald told the agency's board of directors during a budget presentation last week.
The increased cost of premiums for personal liability and property damage insurance are an especially stark example of the increased operating costs faced by LB Transit during this unprecedented time.
According to McDonald, the agency will have to shell out $1.2 million in insurance premiums for the upcoming fiscal year, triple the annual premium it paid in previous years. This is due to the potential costs associated with coronavirus-related claims by employees and passengers, he explained.
Meanwhile, fare revenues have essentially evaporated. Over the entire month of May, LB Transit collected only $684 worth of fares. This is in part due to the decline in ridership, but losses have intensified as passengers enter at the back of buses instead of the front, where fares are usually collected, to protect the safety of bus operators.
Similar to LA Metro, Long Beach Transit is expecting a significant decline in federal, state and local subsidies, as these are usually funded by sales tax revenues.
But despite these significant financial challenges, McDonald said the agency is not planning to lay off any of its more than 800 employees. 
Instead, the transit agency will utilize the $29.2 million in federal CARES Act funding and 10% of its reserves to keep its buses running and its staff employed.
"Employees have stepped up and shown their commitment to the community and the customers we serve," McDonald said. "The picture of the budget is tough, but I believe that we will weather this storm."