The Port of Long Beach now boasts what it hails as the largest community grants program of any seaport in the world. In 2016, the Long Beach Board of Harbor Commissioners decided to expand the program, which was originally founded in 2009 to mitigate the impacts of its largest capital improvement projects, the replacement of the Gerald Desmond Bridge and the redevelopment of its Middle Harbor.
"Initially, we set aside almost $17.5 million and awarded about 115 projects over about a four- or five-year period," Renee Moilanen, the port's manager of air quality practices, told the Business Journal. After the board of harbor commissioners directed staff to expand upon the program, a thorough analysis of community impacts and needs was conducted. "We went through a process that resulted in the port allocating an additional $46.4 million to this program," Moilanen said.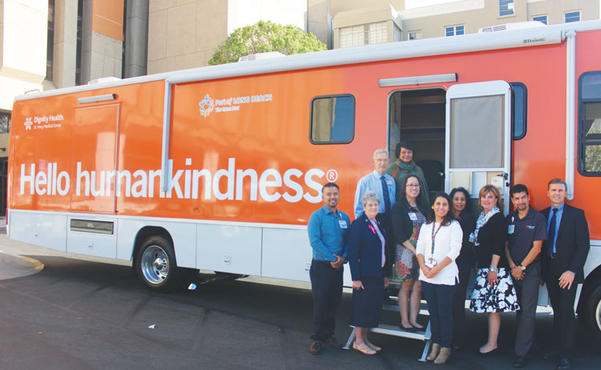 In 2011, the Port of Long Beach gave Dignity Health St. Mary Medical Center a nearly $835,000 grant to create a mobile unit dedicated to caring for respiratory illnesses like asthma in areas affected by port operations. "The Port of Long Beach and Dignity Health – St. Mary Medical Center have a longstanding and rewarding partnership, which has allowed us to serve the most vulnerable populations in the Greater Long Beach community. Their generous gift of the Mobile Unit has enabled thousands of people to benefit from our various outreach efforts over the past 5 years and will allow us to continue to deliver care with humankindness," St. Mary President Carolyn Caldwell told the Business Journal. Pictured from left are St. Mary staff: Veasna Mai, with Dignity's Families in Good Health program; Sister Celeste Trahan, vice president of mission integration; Leon Choiniere, chief financial officer; Carolyn Caldwell, hospital president (top); Lindsay Gervacio, manager of Families in Good Health; Yolanda Salomon-Lopez, Welcome Baby educator; Denise Livingston, director of human resources; Kit Katz, director of community benefits; Enrique Vega, transportation services; and Paul Czajka, chief operating officer. (Photograph by the Business Journal's Brandon Richardson)
The result is that a total of more than $64 million will be spent in the community over the next 10 to 15 years, with the goal of spending at least $3 million per year, according to Moilanen.
Lou Anne Bynum, president of the board, said that she and her colleagues knew the bridge and Middle Harbor projects would be drawing to a close in a few years and wanted to ensure that the grants program continued. "Once those two projects are over, there wasn't any additional source of funding for community mitigation grants. And we realized that the mitigation grants were very important to the community," she said. "So what we decided to do was to work with the staff to carve out a portion of the budget for the next 12 years to be able to fund those grants."
Originally, the grants program benefited only programs or projects in a portion of Long Beach near the port and along the 710 freeway, as well as portions of Wilmington and San Pedro, that addressed air quality and health, according to Moilanen. Eligible areas have been expanded throughout Long Beach and to some surrounding communities like Carson, Paramount and Compton. Additionally, grants are now also awarded to projects that address water quality, traffic and noise.
The port has divided its grant-giving into three programs: community health, community infrastructure, and facility improvements. Examples of eligible projects include installing high-functioning air filters and HVAC replacements, stormwater improvements, creating park space and more, Moilanen said.
"Because our revenues are very tightly regulated by the state, we can only spend money on things that have a direct nexus to port operations," Moilanen explained. "We had to work very closely with the State Lands Commission to develop a nexus study to identify our connection to specific community impacts."
The port is particularly focused on benefiting sensitive populations who are more likely to be impacted by port operations, such as children, the elderly or those with respiratory conditions, Moilanen said.
Examples of projects that have benefited from port grants include: air filter, window and door replacements at local schools and other facilities; a mobile care unit for St. Mary Medical Center dedicated to asthma treatment; asthma education and outreach; tree plantings; and more.
"We have become partners with these organizations. We definitely see that we are more than just a grantor," Moilanen said. "We are always trying to figure out how we can do things more collaboratively. So one of the nice side benefits of this program has been the fact that we have really built some strong partnerships with community organizations that hadn't existed before."
"We are the economic engine for the area. We are also one of the most significant causes of air pollution and emissions," Bynum said. "There is no port on the globe that is doing this kind of thing with its community and its region to be able to try to mitigate and help."
Bynum said she hopes that future harbor commissioners will choose to extend the program on an ongoing basis once the allocated funds have been spent.
To learn more about the port's community grants program and how to apply, visit www.polb.com/environment/grants/default.asp.