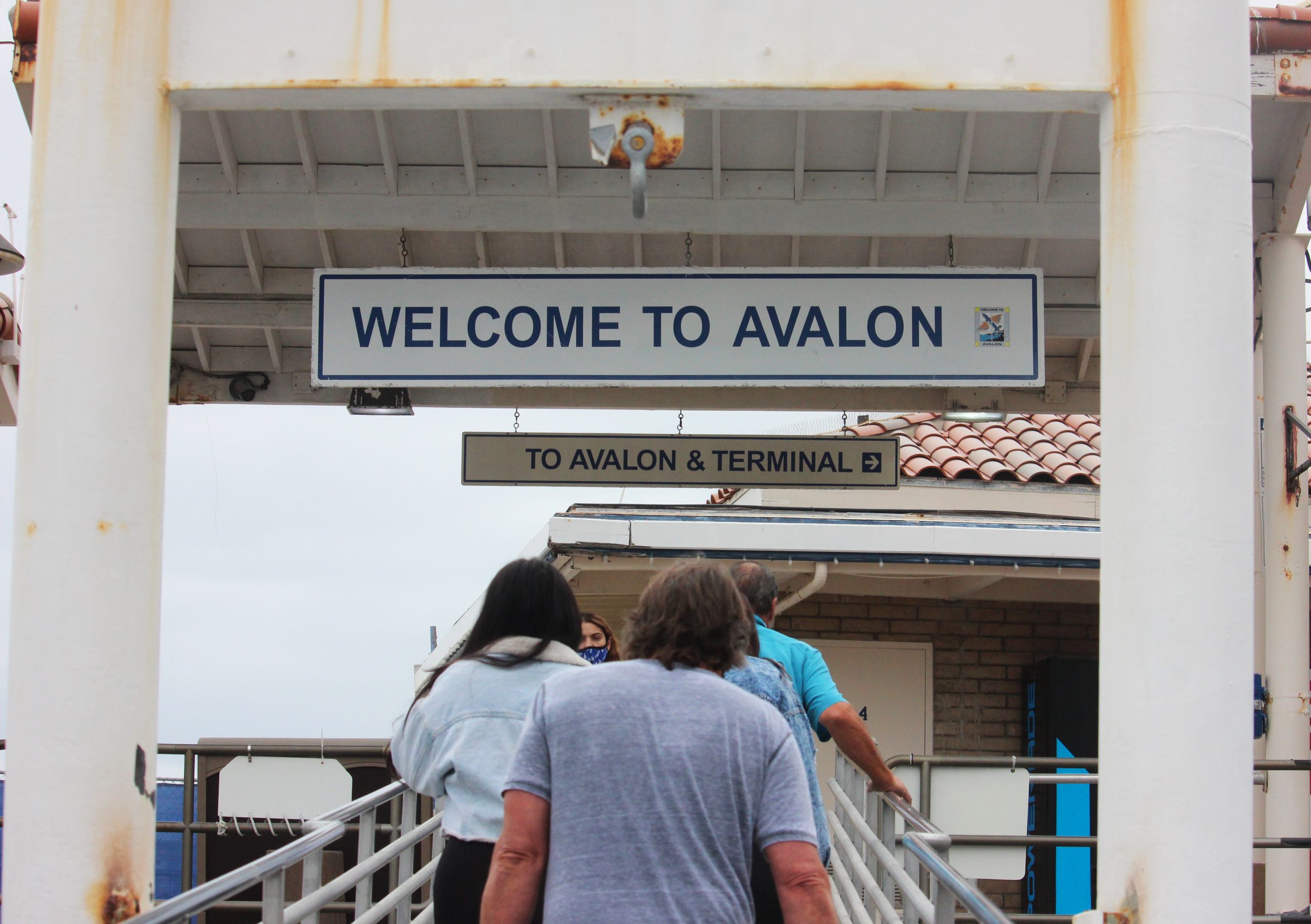 The state of transportation to and from Catalina Island, like just about anything these days, has been in constant flux. 
As the number of visitors to the island ebbs and flows, and regulations on the reopening of the economy change on a weekly basis, the business of ferrying people from the mainland to the town of Avalon has changed as well.
Greg Bombard, president and CEO of the Catalina Express, said his ships have seen an uptick in passengers, especially ahead of the Fourth of July weekend, traditionally one of the busiest times for travel to the island.
"It's a popular time of year," Bombard said. Because most visitors travel in groups, he explained, social distancing between those family or household units has been easier aboard the Express than it would be in a more commuter-heavy setting, where many travel alone.
"We're able to accommodate a lot of people and it's working out real well," Bombard said. 
The state's decision to allow leisure travel is what turned things around for the island and for the Express, Bombard said. "We're starting to see more and more people who want to get away." The company has restored departures from San Pedro and Dana Point, which had been canceled during lockdown.
But even before the reopening of local travel, the Express continued to operate, albeit on a reduced schedule. As the main mode of transportation for visitors and residents alike, the Express had to offer at least two sailings a day, one in the morning and one in the evening. 
"We were still an essential carrier," Bombard said. 
To maintain a safe environment onboard, passengers are required to wear masks and the boats are sanitized in between trips. Every night, they are fogged with a disinfectant. Enforcing the mask requirement can be difficult at times, Bombard acknowledged, especially as people eat and drink during the trip. 
"It's just difficult for people to wear masks for as long as they have," he said. "We work with them, we just ask them to put it back on after they drink their glass of water."
Some travelers choose to make the 30-mile trip across the channel on their own vessels. Moorings in Avalon, Two Harbors and other docking sites reopened in May and unlike the overall number of visitors, which has been down due to the pandemic, private boat traffic has been consistent with pre-pandemic numbers.
"Private boat traffic has been great," said Avalon Harbormaster JJ Poindexter. "People just want to get out, they want to get away from everything that's happening over there."
Weekends have been especially strong. "On Fridays and Saturdays everyone just makes a beeline over here," Poindexter said.
Over the Fourth of July weekend, 248 boats were docked at the harbor, compared to 286 boats the previous year. 
Cruise ships, which normally bring large groups of travelers to the island, have completely ceased operations as the industry re-evaluates its future following several highly publicized outbreaks early on in the crisis.
But even when cruise ships return, the city of Avalon will have to make some tough choices to protect the health of its residents, said Mayor Anni Marshall. 
"When they come back, we have the ability, as a town, to say: You can have your cruise ship, but you can't let the people come ashore," Marshall said. 
The town relies on the sales tax revenues brought in by cruise ship passengers, but Marshall noted that many of the island's wealthier, retired residents likely won't be as concerned about the city budget as they are about their health, and may favor a ban on shore visits by cruise ship passengers as a result. Meanwhile, local bars, restaurants and shops—along with their workers—may want those visitors to return sooner rather than later.
"They are a necessity," Marshall said. "It's going to be a difficult conversation."
One of the less common forms of transportation to and from the island, air travel, has seen lower numbers after seven weeks of lockdown, but traffic is picking up, according to Airport Manager Justin Bollum.
June is normally a low-traffic month for Catalina's Airport in the Sky, Bollum noted, as most pilots avoid flying under the low-visibility conditions commonly referred to as "June gloom."
"Now that it's clearing up, we're seeing more traffic, but we're still down a good portion," Bollum said. 
The airport is financed almost entirely by passenger fees and operates on small margins as it is. To top it off, the Catalina Island Conservancy, which operates the airport, just spent $5 million on landing strip repairs, which were finished a year ago. Nonetheless, Bollum expressed optimism.
"It will be a burden, but the life expectancy of that project is going to last a lot longer than a short-term downturn," he said.