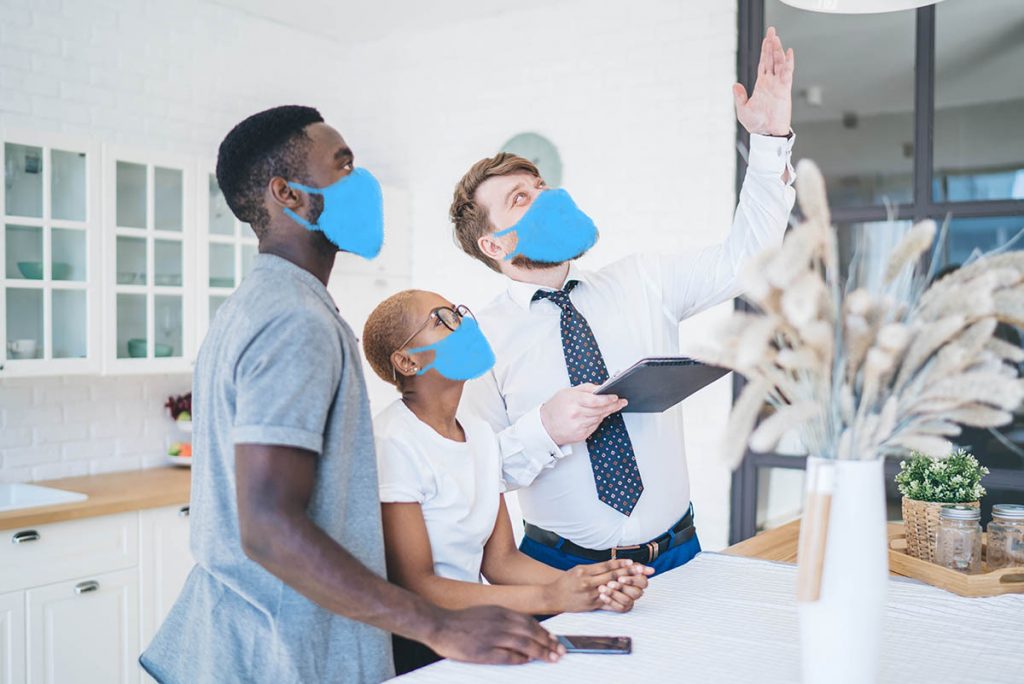 House shopping in the Before Times: Pack the family in the minivan and drive around on weekends looking for open house signs in neighborhoods where you'd like to live. The kids bounce around calling dibs on their bedrooms while the real estate agent tries to gauge whether you're a likely candidate as a buyer or just snooping around and building a wish list. They ask if you're pre-approved for a loan and you tell them, no, you haven't got that far. You're just sorta looking around. The agent sighs and hands you some flyers about the property.
House shopping in the COVID Era: For one thing, the looky-loo is an extinct species now. Open houses are prohibited. You look at houses on the computer in your house, watching professional-quality videos as you click and point from room to room. As you conduct your research at home and you see something you like … Well, how serious are you? These days you have to get pre-approved for a loan before you set foot in the house.
Next comes the real COVIDdy part: Printing out, reading and signing a California Association of Realtors PEAD-V form in which you agree to follow all federal, state and local laws and stay at home orders "even though they may be changing rapidly."
You agree to wash your hands with soap and water or use hand sanitizer immediately upon entering the house. You agree to practice social distancing and to wear protective face covering. You agree to avoid touching knobs, faucets, toilets and toilet handles, light switches, garage door opener buttons, handles and pulls, alarm system controls, remotes, thermostats, switch boxes, gates and gate latches, window locks and sashes, pool coverings, counters, door and cabinet handles and sinks.
You acknowledge that although others have been advised to clean and disinfect the property before and after each showing, there is no guarantee that the cleaning removed any or all instances of the COVID-19 virus that may have been present.
And, finally, you understand that accessing the property may be dangerous or unsafe and could expose you and others to COVID-19 and you are entering the home voluntarily.
And, while this isn't included in the form, the implication is "and may God have mercy on your soul."
And all of this tends to be great news for Realtors, because people who are willing to leap these hurdles are likely to be darned determined about wanting to buy the house they're looking at.
"On our last listing we had 11 showings and we got seven offers," said Kelsea Mazzocco of First Team Real Estate. Like other Realtors interviewed here, Mazzocco is both bullish and wary of the market in the COVID era.
"Right now the market is awesome," she said. "We've been super busy, so many buyers. It's insane. When the virus first hit we were working with buyers and sellers and everybody froze. It didn't matter how low interest rates got, and most of the listings we had we put on hold. It was that way for two or three weeks. People were thinking, 'Are we really going to buy a house if the world's ending?'"
Later, said Mazzocco, people began to feel comfortable and many of the fears either went away, or people learned to live with it. "They got more comfortable wearing masks, and we began listing properties again." She said she priced them on the low side out of caution, but she sold 12 properties and they all went above the asking price.
"But it's a fragile market," she said. "I'm not going to say that in October when the flu season comes there's not going to be a lockdown again."
Mike Dunfee, a Realtor and property manager who specializes in coastal properties, said there was a few weeks when everything was closed and buyers were backing out of some good deals, "but now that the dust is kind of settling and prices didn't fall to the floor, sales are picking up. You combine the demand to sell and buy that didn't take place during the lockdown with the low interest rates and it's a confirmation that it's OK to buy now."
As for donning masks and gloves and the other hassles related to looking at homes, Dunfee says that people have gotten used to those kinds of precautions. "It feels weird now to be wearing a mask when you're out now. It's not as cumbersome as it was a couple of months ago. Now if you forget you mask it's like forgetting your iPhone. And presenting your property now on the internet is not just a good thing for Realtors to do, it's the necessary thing. If you're an agent who's not up to speed with the technology, you either adapt or you deliver for Postmates."
"When coronavirus first hit we kind of hit a wall, because we couldn't show places," said Beatrix Whipple, of the Whipple Group. "I thought it was going to be 2008 all over again, but it hasn't been. We're busy, not as busy as normal, but busier than I thought we'd be. I think we may be in a bubble because of the stimulus, but I'm very cautious about jobs and unemployment." Like all agents, Whipple says home inventory is low, which creates a seller's market.
Phil Jones, managing partner of Coldwell Banker Coastal Alliance, says there are 336 single-family home listings now, compared to 445 last year. "The prices are holding up because demand is really strong."
One reason for people listing their homes now, or are in the market for a new house, is simply that because of stay at home orders and more people choosing to stay and/or work at home, paired with the relative inability to travel to any real extent, people are getting sick of their current residences. "People are telling me that they hate their house now," he said. "Staying at home, especially if you have kids that you're home-schooling, is hard on everybody," he said "Frustration and anger is running high."
Kelsea Mazzocco agrees. "People have told me, 'I need a pool house for my kids.' Especially if we have to go through a lockdown again. People look at their current homes and they say, 'This is where we're stuck?'"